Civilization VI offers new ways to interact with your world, expand your empire across the map, advance your culture, and compete against history's greatest leaders to build a civilization that will stand the test of time. Play as one of 20 historical leaders including Roosevelt (America) and Victoria (England). Civilization IV was published for the Windows and Mac OS X platforms. Aspyr released the Mac OS X version in June 2006, and a Mac digital version was released January 2010 on gameagent.com. 29 Users who quickly purchased the game after initial release reported having problems playing the game on particular sets of video drivers, which were. Sid Meier's Civilization is a 1991 turn-based strategy 4X video game developed and published by MicroProse.The game was originally developed for MS-DOS running on a PC, and has undergone numerous revisions for various platforms.The player is tasked with leading an entire human civilization over the course of several millennia by controlling various areas such as urban development. Civilization VI is on a range of platforms, but which is it best on? We rank Civilization VI on PC, iOS, Switch, PS4 and Xbox One from worst to best!. Is Civ 6 not responding or stuck at the loading screen? These fixes will resolve the most common bugs! by Ty Arthur As expected, a new big name game comes with its fair share of bugs and crashes right at launch, and the 4X Civ series is no exception.
In the middle of a tense Civ 6 barbarian battle but really need the loo? Well, now you can take your game with you, as 2K has implemented a cross-platform cloud system allowing players to transfer their saves between Switch and Steam.
This essentially means players can instantly close down a game on one device, boot up the other, and continue playing the same game. To do this you'll simply need to link your 2K account and select 'multi-platform cloud save' in the in-game options.
Civilization VI now supports cross-platform cloud saves on Steam and #NintendoSwitch. Link your @2K Account, tick the multi-platform cloud save box in options, and you're good to go!
Get your 2K Account: https://t.co/HX0bxwgmntpic.twitter.com/LxYdxG7hbp
— Sid Meier's Civilization (@CivGame) April 2, 2019
This content is hosted on an external platform, which will only display it if you accept targeting cookies. Please enable cookies to view.
It's a pretty neat idea, with the only catch being Civ 6 on Switch does not yet have either of the two expansions released so far for the PC version. Vanilla only saves for now, I guess.
Meanwhile, PC players who do have the newest expansion pack can now download Gathering Storm's first major update. The patch notes detail a huge range of balance changes, along with fixes such as solving road and railroad 'spaghetti', and 'add[ing] beards to all remaining leaders that did not previously have beards'. OK, that last one might be a lingering April Fool's joke, but I'd still like to see it.
This is a bit of a different post for me, and this blog, but as a lover of the industry, I also have opinions about the news and happenings in the world of games, so maybe there will be more posts like this.
If you know me, you know that I love Civilization VI, so while I'm a little biased, here's what I think about it, where the game currently stands and possibly, it's future!
Civilization VI has a new September game update which of course brings bug fixes, balance updates but also a new battle royale game mode (Red Death) all for free, for everyone with the base game!
','url':'https://youtu.be/31IXlgaKXCo','width':854,'height':480,'providerName':'YouTube','thumbnailUrl':'https://i.ytimg.com/vi/31IXlgaKXCo/hqdefault.jpg','resolvedBy':'youtube'}'>
Some of the biggest changes in the update are to improve coastal cities and Great Admirals, the great people that unlock great abilities for the player!
As you may imagine, this is a great opportunity for my naval orientated map that I have been creating, Global War-ming as it spices up the gameplay opportunities.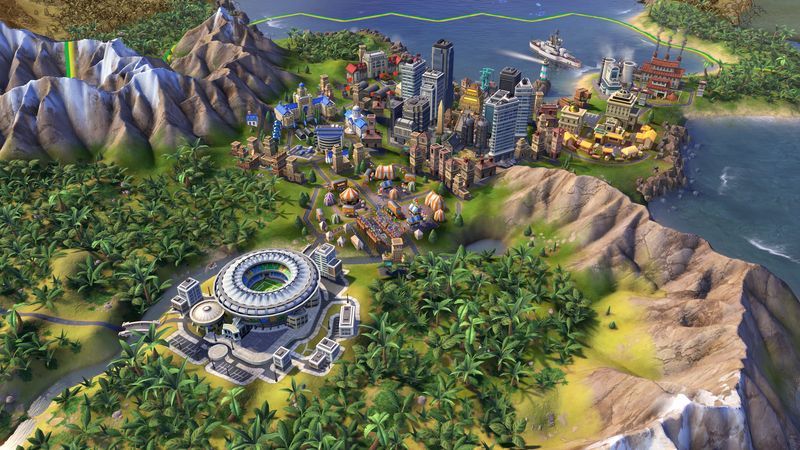 Red death
This is something no one saw coming but after seeing it on the stream, seems to be really well done! A free game mode for everyone who owns the base game, so no DLC is needed to play this.
','url':'https://youtu.be/Nyod_p2V_l8','width':854,'height':480,'providerName':'YouTube','thumbnailUrl':'https://i.ytimg.com/vi/Nyod_p2V_l8/hqdefault.jpg','resolvedBy':'youtube'}'>
The game mode flips everything that you traditionally think about Civ, on its head, it's fast paced (for civ), dynamic and competitive.
Players have to protect a settler unit that cannot settle cities as they ordinarily do, these serve as the players life, if it is captured the players defeated.
As the game continues, players scour the map, collecting units for their army.
As with all battle royale mode, players avoid a growing "danger" area that kills units. Seeking the shrinking "safe" area, which increases urgency and causes player engagements. Pretty standard stuff for a battle royale mode.
The last player standing is the winner and their settler, transported into space onto a better, less apocalyptic worlds.
It looks super fun and a killer game mode that Civ has been missing slightly.
As you maybe aware, Civ VI is currently available on PC, Nintendo Switch and iOS, with possibility for Android too. However, currently the PC version is the only version with all the DLC Expansions available to it.
I am truly excited about the future for Civilization VI, as Firaxis has announced that they're working with Aspyr who are developing the mobile ports to bring all DLC to all Platforms by 2020.
This next bit is purely my opinion and speculation. I believe that Civilization VI is the best rendition of the game in the series so far and is only getting better with regular updates and continued development, I hope that this continues for a long time!
I hope and believe that this could turn into a multi-platform cross-play experience rather than simply another game in the series, that will be superseded by Civ 7 eventually. Obviously it'll get to a stage that it'll probably have to happen. But the games in a really good phase at the moment, it can only grow.
My main complaint is the expenses, it puts players off and even personally, I'm not looking forward to buying the DLC (as I have base game on iOS) again for other platforms. However this could be seen as an opportunity, if Civ VI continues to grow and adapt, why not offer a subscription for players to get everything everywhere? Just a thought? Or even a cheaper price if a players already purchased the content elsewhere? The 2K account already manages cloud saves, is it too much of a stretch? Maybe.
With the Play by cloud mode introduced with Gathering Storm which allows you to play an online multiplayer game as and when they want. Instead of grouping a bunch of friend/ opponents/ victims? together in 1 lobby at the same time for the length of time a Civ game can run 6-10+ hours at the same time which is quite tricky!
Instead the game is "hosted" in the cloud and players take their turn when it's available to them. This dynamic game mode would really lend itself to a multi platform cross play experience. Imagine playing a multiplayer game with some friends traditionally for 4+ hours, you get pretty far into the game, but life interferes, people have to eat, others want to go do something else in life. It happens, but all players want to continue, simply not at that moment. With play by cloud you can switch the game over to this none simultaneous mode and pick up turns as and when you can. imagine; with this on mobile platforms, the games could continue a lot more fluidly!
Your mileage may vary with play by cloud though. It seems that larger games with more players, run a lot slower, something Civ games don't need. Especially when a single player doesn't take their turn for a while, it can happen for the best of us.
With the game in the prime of its product cycle, it's highly likely that there will be a third large DLC to sit alongside Rise & Fall and Gathering Storm. But what will this entail?
The past
Well, this could go anywhere, but if you consider the previous DLC's it may give a hint of what's coming. Maybe? Wps 10 wpa tester premium. I won't go into detail but there's some big things here:
Rise and Fall:
GREAT AGES

LOYALTY

GOVERNORS

ENHANCED ALLIANCES

EMERGENCIES

TIMELINE

NEW LEADERS AND CIVS

NEW GLOBAL CONTENT

IMPROVED GAMEPLAY SYSTEMS
ENVIRONMENTAL EFFECTS

POWER AND CONSUMABLE RESOURCES

ENGINEERING PROJECTS

WORLD CONGRESS

21st CENTURY TECHNOLOGIES & CIVICS

NEW LEADERS AND CIVS

NEW SCENARIOS

IMPROVED GAMEPLAY SYSTEMS

MORE NEW CONTENT
The present
Game modes with The Red Death a big new mode to give players a quick, competitive game mode to play. Easy to access with the matchmaking option in the main menu. Mixing up the traditional 4x structure of the franchise. We've had scenarios in the past but this feels, bigger, better, maybe more polished, they seem to be pushing it, probably because of how popular BR modes are recently.
World Builder allows players to create their own maps easily, like mine! This has been a continuation from the mod support to allow more variety in the terrain layers can enjoy, possibly with novel twists, like mine!
The future
Improvements
Bug fixes, art updates, new leaders, new maps and QOL improvements have happened reliably in the past, with other updates and DLC expansions. This update no exception!
Personally I think there is still a huge amount of areas in Civ VI that can be improved and worked on. Lenses, religion, trade, espionage and many more areas could all have improvements brought to them! Instead of adding more to the mix and creating more areas the Firaxis team need to work on, they could flesh out and improve areas that are already in the game that have not received much love since the initial release.
They've already announced brining the DLCs to the mobile platforms so there is a big opportunity with cross play there!
Civ 6 Build Order
New content, mechanics and goodies
Alongside fleshing out other mechanics that are already in the game, they could quite easily add new complexity to this with new mechanics in features that already exist. This can really go anywhere, but if we took espionage as an example, they could add mechanics to make this feature more fleshed out. What that would look like? I don't know, but they could add mini games, more in depth projects for a spy to work on, more units to build a spy network rather than just the one unit or anything really. If the past expansions have shown us anything, it's that they're not afraid to make big changes to affect how the game plays!
What I'd personally like to see
Ok this list maybe too long to write out so I'll try to keep it brief!
Civilization Vi Trainer
The in game interface or UI leaves a lot to be desired and mods have both filled this role and shown what could be. With map tacks becoming cannon, the mod introduced as part of the game in the last update, I really hope the team addresses other elements of the UI. One mod which I swear by CQUI already does some big things to improve the situation. In a perfect world it would get added, however that's a big mod covering multiple interfaces including lenses, trade and the general interface of the game world. This is less likely to get introduced but they may take (and I hope they do) elements of it for an update.
As I've already mentioned cross play, it'll be the right time for it and the biggest push to bring the community together. I won't harp on about it but it would be good to take a play by cloud turn on my phone or switch rather than having to boot up my PC to do it!
Civ 6 Platforms Download
A better lobby system with filters, search and more sort fields. With the variety of the user pool having CVI, R&F and GS, finding the game you want to play can be difficult at peak times. A more robust server browser would really improve half the game experience (trying to find a game) for online players.
Matchmaking, something that many may not like the sound of. But with RD mode introducing it, I feel it's already on its way! Matchmaking to either find a lobby of players or an existing game could be exactly what the game needs. Quite often, people will lobby up then leave after a few turns or further on, maybe it's for a legit emergency, maybe not. It doesn't matter, 9 out of 10 times when that happens, the game you've spent ages to find falls apart. It's frustrating and boring, but if players could be brought in to fill someone who's left seat, it could really add to the longevity of these games!
Sorry if this is a bit ranty, but it's kinda a dream, for a Civ player, lover and fan.
Civ Vi Dlc
But what do you think?
Would you be interested in a subscription that gave you Civ VI and all content across all available platforms?
What would you like to see come to Civ VI?
Civ 6 Mods
Lemme know in the comments!